About Geek Squad Email Scam
Geek Squad Email Scam refers to malicious email campaigns that use Geek Squad's name to scam users. The emails claim that users' subscriptions have been renewed and they have been charged for them. The emails do not have links or attachments but they do have phone numbers, which if dialed, would connect users to scammers. It goes without saying that Geek Squad has nothing to do with this email and its name is merely used to scam users. There are many scams using Geek Squad's name so it's difficult to say which particular scams users are dealing with. But in most cases, they are giveaway scams.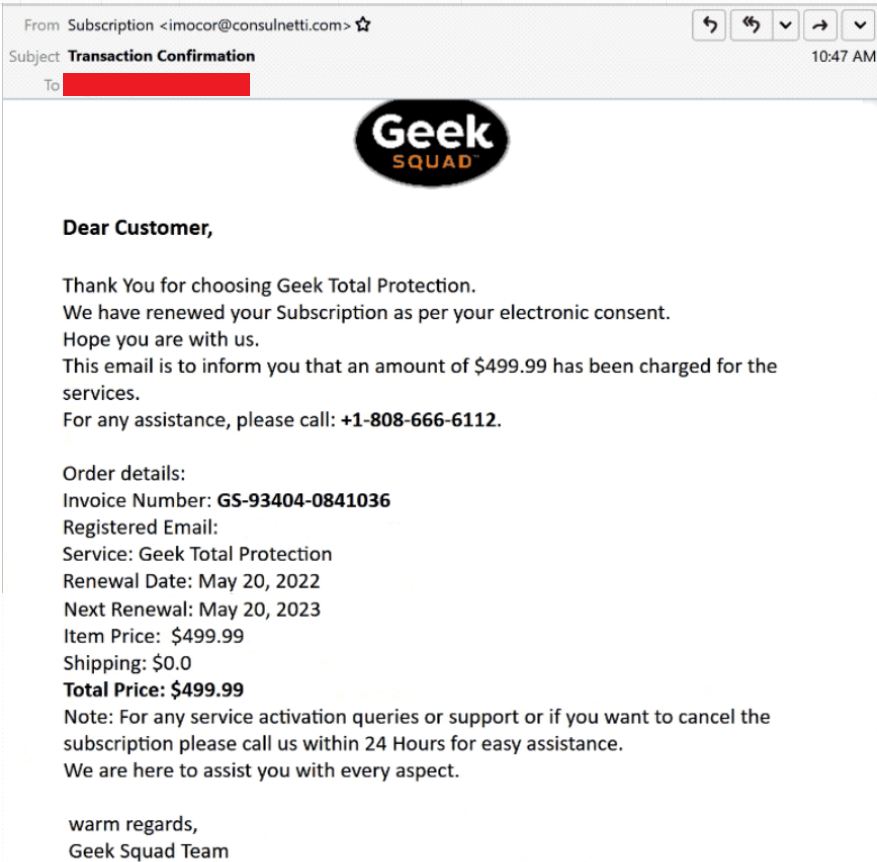 According to one particular Geek Squad email scam we have encountered, users were supposedly charged $499.99 for a renewed Geek Total subscription. The name of the subscription varies depending on which scam email users receive, but it usually includes phrases like "Complete Network Security" and "Geek Total Protection". The email claims that users had a subscription to a Geek Squad product and it has been renewed. If users actually did have a subscription, this kind of email may alarm them quite a bit.
Subject:

Greek Squad

Dear Customer,

Thank You for choosing Geek Total Protection.
We have renewed your Subscription as per your electronic consent.
Hope you are with us.
This email is to inform you that an amount of $499.99 has been charged for the services.
For any assistance, please call: +1-808-666-6112.

Order details:
Invoice Number:
Registered Email: –
Service: Geek Total Protection
Renewal Date:
Next Renewal:
Item Price: $499.99
Shipping: $0.0
Total Price: $499.99
Note: For any service activation queries or support or if you want to cancel the subscription please call us within 24 Hours for easy assistance.
We are here to assist you with every aspect.

warm regards,
Geek Squad Team
+1-808-666-6112
Copyright © Geek Squad Team | 2022
These emails are probably promoting a "refund scam". It's a very common scam that aims to trick users into sending scammers money. The way it works is if users call the fake tech support phone numbers listed in scam emails, they get connected to professional scammers claiming to work for customer service or tech support. When users explain the situation, scammers offer to refund the money. They ask to remotely connect to their computers so they can control the screen, then request that users access their bank account. Because they are connected to the computer remotely, they can show fake overlay screens to make it seem like they did indeed send users money. Only instead of sending them the correct sum of money, they fake send a significantly larger sum. For example, if users want a $400 refund, scammers would pretend to send $4,000, supposedly as a mistake. Users would see a fake screen and believe they did indeed receive the $4,000. Scammers would then start begging users to send back the difference, and if users agree, they would be sending their own money because they didn't actually receive anything from scammers.
What gives away a malicious email
Grammar and spelling mistakes are what usually give away malicious emails. The Geek Squad email scam is written in very poor English and has very obvious mistakes. Considering that Geek Squad is a legitimate company, it's very unlikely that its emails would contain any obvious mistakes because that would make the company look very unprofessional. Its emails would certainly not contain phrases like "We have renewed your Subscription as per your electronic consent. Hope you are with us". But since malicious actors often have very poor English language skills, their malware campaigns are full of mistakes. This at least makes the emails very obvious and users can recognize them for what they are pretty easy.
Notice how in the above example of the Geek Squad email scam the recipient is addressed as "Customer". This is an obvious sign that users are probably dealing with a malicious, phishing, or scam email. Users are addressed by name in emails from companies like Geek Squad that are legitimate. However, in many cases, malicious actors don't have users' personal information so they use generic words like "User", "Customer", "Member", etc.
Users should always inspect the email addresses of senders they don't recognize, especially if an email asks them to open an attachment, click on a link, call a phone number, etc. In many cases, the emails are sent from very random email addresses, which immediately gives them away. However, when emails are more sophisticated, the senders' addresses may look much more legitimate. This is why users should always, at the very least, research email addresses with a search engine.
Remove Geek Squad Email Scam
The email is safe as long as users don't engage with it. If it lands in your inbox, you can simply delete Geek Squad email scam. It's important to note that there's a good chance your email address has been leaked if you have received a phishing or malicious email. If that is the case, you will receive more potentially malicious emails in the future. To find out whether your email address has been part of a data breach, you can use haveibeenpwned. In the future, be cautious when opening unsolicited emails if it turns out your email address has been leaked. Do not click on unknown links and scan all unsolicited email attachments with anti-virus software before opening them.
Finally, if you called the number in this scam email and gave away your personal information, be very wary of unsolicited phone calls from unknown callers and emails. The information you provided will likely be used to perform more sophisticated scams on you. If you sent money to these scammers via bank transfer, there's still a possibility of getting your money back if you contact your bank in time. They would also help you with everything you may need to do to secure your account.