What is charity and disaster fraud
Charity and disaster fraud refers to a deliberate act of deceiving people into making donations to non-existent charities. While there are always active charity scam campaigns, scammers become particularly active after a significant disaster strikes a specific place.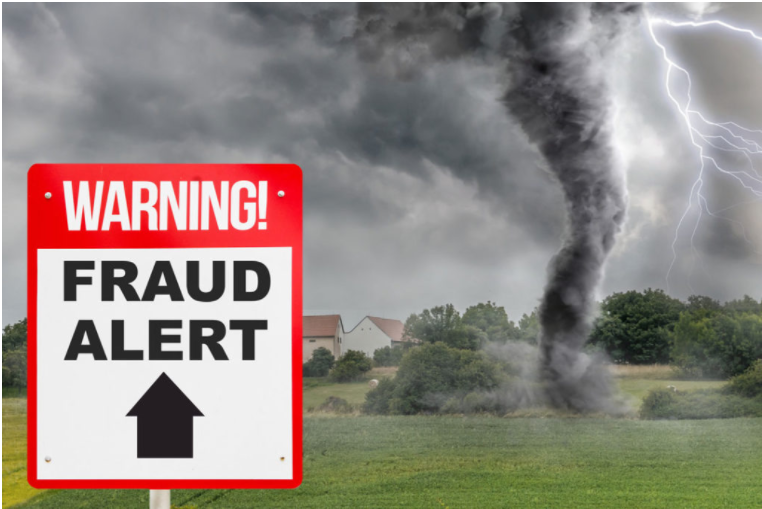 Because high-profile tragedies are covered quite extensively, people become more sympathetic, thus are more willing to donate. This is the best time for scammers to approach people and ask for donations. Only instead of the money reaching those who need it the most, it ends up in the hands of cybercriminals who exploit people's sympathy and good intentions.
Charity and disaster fraud can be encountered in many forms and on many platforms. You may get an email or a private message, see a post on social media or a crowdfunding platform, and even get a phone call or be approached in person.
How to avoid donating to charity and disaster fraud schemes
Always research charities before donating.
It goes without saying that you should always do extensive research before making a donation. If it's a new charity or one you have not donated to before, check who's behind it and how the money will reach the intended recipient(s). Legitimate charities will usually have a social media presence, as well as appear on the news once in a while. If a simple search with Google does not give you any appropriate results, consider avoiding this charity.
If you want to donate to an individual person, donate via platforms that verify their users. Or check whether their story has been mentioned in the media.
Stick to known charities.
When donating, it's safest to stick to known charities because you will at least know that the money will reach the recipient. If you're not sure about which charity to donate to, there are many lists with various different charities.
Donate via check or credit cards.
To avoid being tracked when carrying out this kind of fraud, cyber criminals often ask for donations in cryptocurrencies, gift cards, and other untraceable means. If you're planning on donating to a charity, pay via credit card. Only make wire transfers if you are familiar with the charity and know they are not fraudulent.
Do not interact with suspicious charity emails.
Scammers often send emails inviting people to make a donation to charities, especially after a recent disaster. For example, when the global coronavirus pandemic started, many scammers sent emails asking people to donate to vaccine research, masks, etc.
Keep in mind that unless you have donated to it before, legitimate charities will never randomly email people asking for donations.
If you receive an email from a supposed charity you have not dealt with before, do not interact with the email's contents, certainly do not click on links or open email attachments. Not only could it be a scam, it could also be a phishing attempt or contain malware.
Remember that scammers can pretend to be known charity organizations.
In order to get "donations", scammers often pretend to be from legitimate charities. They may email users, create fake campaigns and promote them on various social media platforms. So if you see a cause you wish to donate to, go to the charity's official website and donate through there.
Be especially cautious when trying to donate after a recent disaster.
Charity scammers become particularly active after a big disaster. When hurricanes, flooding, massive fires, earthquakes and other disasters happen, scammers start promoting themed scam campaigns by sending emails, making promoted social media posts, sending private messages, etc.
If you want to donate to relief charities after a specific disaster, research the charities first, or make donations via bigger, known ones.
Avoid donating when approached in person.
Scammers often approach people in person and use manipulation tactics to pressure them into making a donation. It's much easier to convince someone to donate in person than online because scammers can subtly shame them and apply pressure. To avoid feeling ashamed, many people end up making a donation, not realizing that they gave their money to scammers.
Because you have no way of checking whether the person asking for a donation actually belongs to the charity they claim to work for or if the money will actually reach the disaster victims, it's not a good idea to make in-person donation.
If you are approached in person and wish to support the cause, write down the information about the charity and research it when you have access to the Internet. Most charities have online donation so if the information you got turns out to be legitimate, donate via the charity's official website.