Two Products.
Ultra Security.

Buy 1 Get 1 for free.
Sometimes one product is not enough to provide complete security for your computer and for your online data. This one deal includes two products that will cover you completely, whether you're using your computer or sending emails/files.
Get SpyWarrior
Get CypherDog
Together, we have created the ultimate security solution for you.
Protect yourself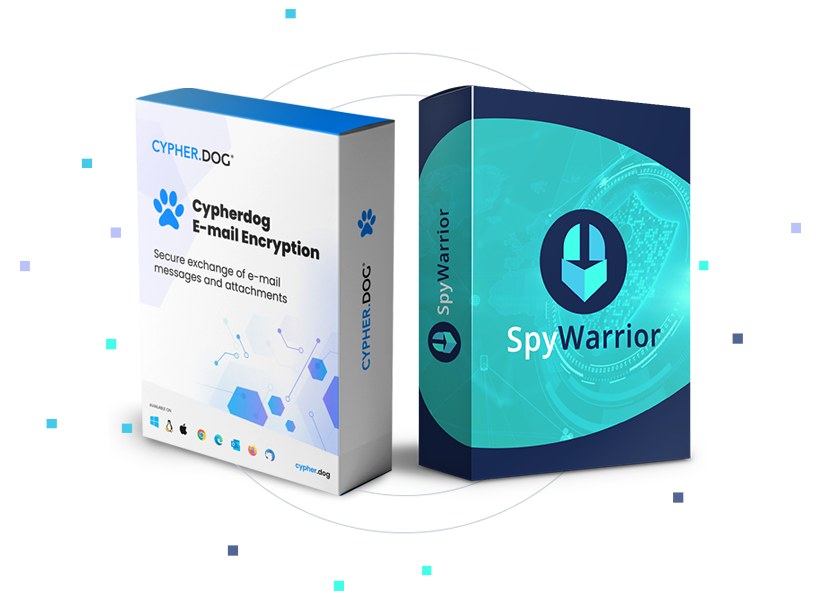 SpyWarrior anti-malware software
Cypherdog E-mail Encryption
in one ultimate security package
Get both for
only 60€
Benefits of having Cypherdog and SpyWarrior in one package
SpyWarrior
Protect against adware, browser hijackers, trojans, worms, scamware, viruses, malware, ransomware to stay safe;
Guarantee real-time protection
Provide a very lightweight program that will not hog your system's resources and will positively impact your computer's performance
Cypherdog E-mail Encryption
Protect against serious cyberthreats such as ransomware, invoice hacking, data leaks, and economic espionage to keep your data safe
Guarantee a zero-knowledge security model so that we or anyone unauthorized cannot recover your encrypted data or gain access to your account
Provide real end-to-end encryption so that no one can decrypt your files without the private key found only in the recipient's Cypherdog application
Don't miss out on this one-time offer that will never happen again.
---
Contacts:
Keep your system healthy
Warrior grade security!